We are not just about catching babies. We are nutrition. We are breastfeeding. We are safety in remote areas. We are insurance for our young families.
– Carol Couchie
An Indigenous midwife is a committed primary health care provider who has the skills to care for pregnant people, babies, and their families throughout pregnancy and postpartum.
Indigenous Midwives:
are knowledgeable about all aspects of women's sexual and reproductive health
provide education that helps keep the family and the community healthy
promote breastfeeding, nutrition, and parenting skills
An Indigenous midwife is the keeper of ceremonies, a leader and mentor, and someone who passes on important values about health to the next generation.
INDIGENOUS MIDWIFERY CARE
Indigenous Midwifery care is a pathway that supports the regeneration of strong Indigenous families by bringing birth closer to home—by restoring the emphasis on birth as normal, rather than approaching it as an illness in need of treatment. Indigenous midwifery honours Indigenous peoples, languages, oral cultures, and traditions. Indigenous midwives uphold birth as a deeply profound and sacred event. Indigenous midwives play a key role in building healthy and safe Indigenous communities, in rural and urban areas.
WHY INDIGENOUS MIDWIFERY MATTERS
Indigenous midwives have specific

core competencies

.

We respond to

needs that are unique

to Indigenous peoples.

We bring birth

back to communities

.

We enable a

reduction in the number of costly medical evacuations

for birth in remote areas.

We maintain and restore our

traditional ways

.

We advocate that all Canadians have

universal and equitable access

to healthcare, specifically sexual and reproductive health.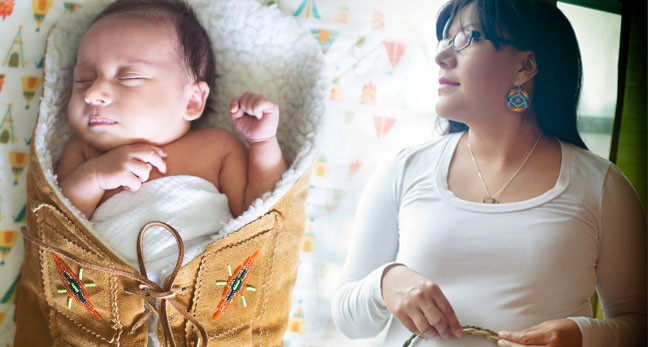 RESURGENCE OF INDIGENOUS MIDWIFERY
Indigenous communities across Canada have always had midwives. Indigenous midwives were once a cornerstone of every Indigenous community.
It has only been in the last hundred years that this practice has been taken away from our communities. This occurs as a result of colonization and ongoing systemic racism in the Canadian health care system. As a result of losing midwifery, important leadership in the health care delivered to Indigenous communities and families was lost. Access to primary care around maternity and maternal-child care was compromised. This has had a devastating impact both on the preservation of culture and on maternal and newborn health outcomes in Indigenous communities across Canada.
Despite this, there are Indigenous midwives practicing in communities across Canada. Increasing the number and capacity of Indigenous midwives fulfills the Truth and Reconciliation Commission's Calls to Action to recognize the value of Indigenous healing practices, and to increase the number of Indigenous professionals working in the health care field.